Vimeo
Ask yourself the following questions:
…What problem are you solving for your clients?
…What is your 'unique solution' to the problem?
…Do you have a repeatable / efficient system of delivery?
Guide your clients towards a more profitable future, helping them Survive, Thrive, Grow & Exit Successfully
What will the VFD Mastermind Group deliver for your practice
Focus client meetings on future growth & equity potential.
Deliver Management Information and regular Financial Review meetings.
Growth Planning to deliver Performance vs Forecast Reporting.
Support clients as their part-time FD / CFO.
Deliver 'Finance as a Service', helping clients also prepare for a successful exit?
Mastermind Group Starting
April 2023
Would you like to know more?
Vimeo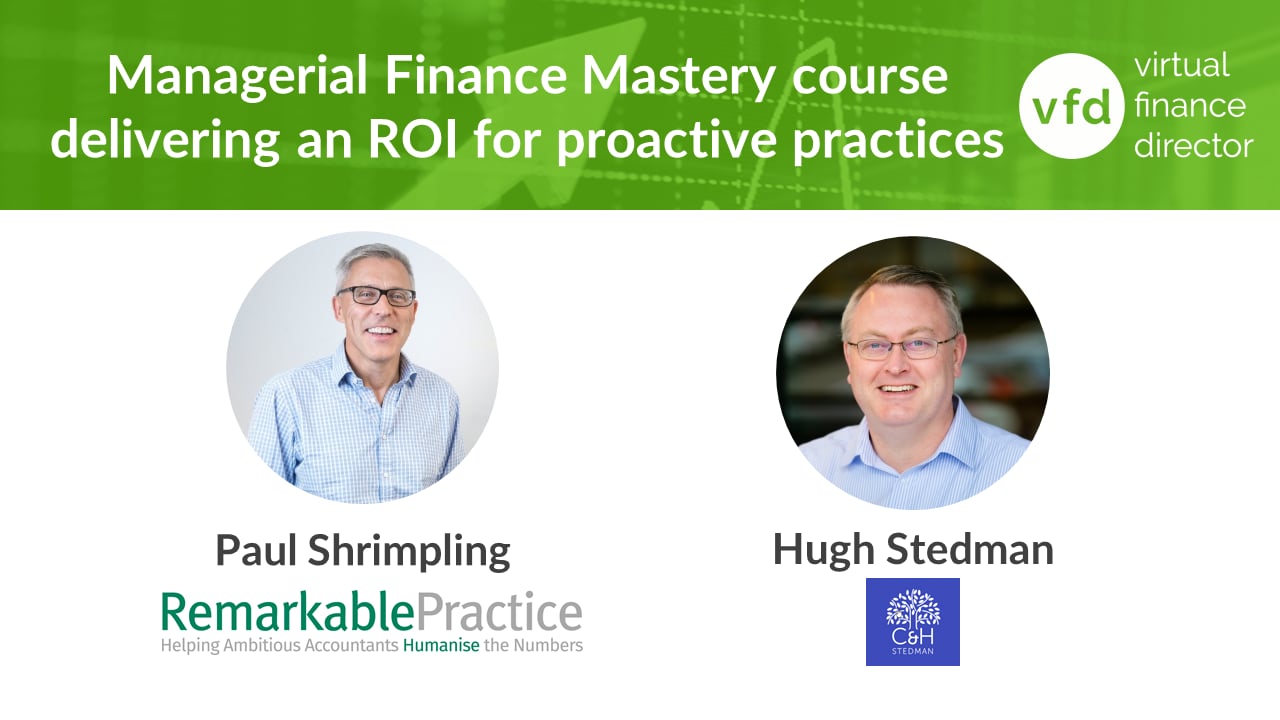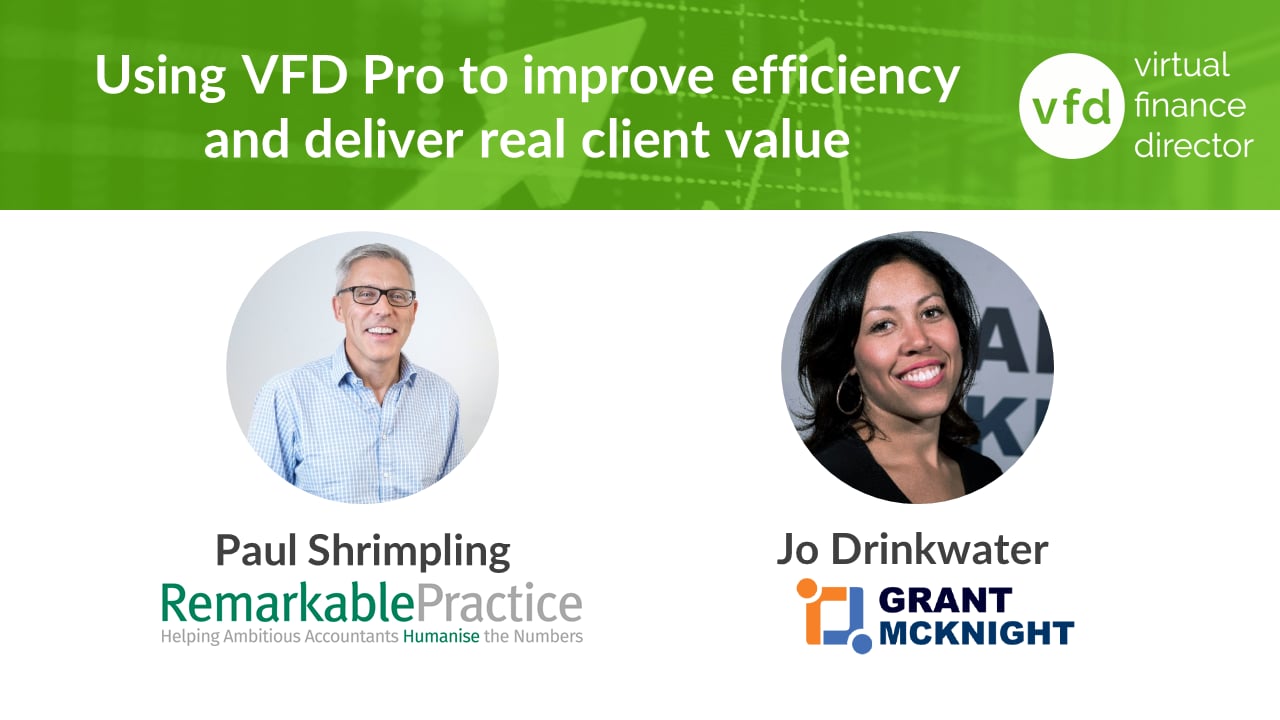 Introduction and Overview
The VFD Way Mastermind will give you everything needed to deliver your Finance as a Service offering:
Your step-by-step implementation process: Planning, Forecasting and Management Reporting
Marketing content for Proposals, Website Content, Email Marketing and Brochures
Practical support to scope services, quantify the value and prices, and present your proposition
Hands on support to use and adapt where necessary, the assets in your VFD toolbox
This will be achieved in a combination of group and one to one check-in meetings each month:
Online group meetings of up to 4 hours comprising education, practice, help to overcome challenges and issues where needed, and practical support to aid you as you implement
One to one check-in to help you with any issues or challenges that are not suitable for group discussion
Ad hoc support to assist over and above is also included (subject to reasonable use)
This knowledge and skills transfer process will give you and your team everything you need to confidently and competently market and deliver an exceptional service that over time does not depend on you for delivery allowing you to scale your service and your equity value.
As you work through the process you will learn how to continually identify and realise quick wins, whilst learning a rigorous, repeatable system / process you can apply in yours and your client's businesses.
Duties and Responsibilities of a Virtual Finance Director/CFO
To fulfil the role of Finance Director/CFO you need the right mindset and approach. As Finance Director/CFO you're the expert for all things finance. It's imperative the management team understand what the budgets are, how the business is performing and where attention needs to be focussed to achieve or exceed the company's goals.
You will work with every part of the business to help establish and manage budgets. You'll also work extremely closely with the MD/CEO, taking responsibility for:
Monitoring business performance compared to forecast, tracking and optimising cash flow
Overseeing the budgets and spend controls, supporting other departments and teams
Supervising the accounts 'team' (yours and your client's accounts staff, and/or sub-contractors)
Strategic planning, modelling, and forecasting, including regular updates and adjustments
Competitive analysis, strategic planning, exit planning
The role frequently includes supervision of third-party suppliers, e.g., HR, H&S and IT
You will become indispensable, consulted, and integral to every significant decision related to the business, and in many cases your client's personal life, as their most trusted and often their only confidant.
We will introduce and discuss the mindset and approach required to fulfil the duties and responsibilities of a virtual FD/CFO in Module 1, delivered in the first two sessions, and built on throughout the time we will spend together.
The VFD Way (your way), is a structured plan broken down into defined modules that will be applied flexibly because this is an iterative process. You will see improvement as you go through the process, success is paramount, so the plan laid out below should be seen as a guide to what we will cover, but not necessarily in that order or time scale:
The Typical Journey from A to B
The coming months will take you and your clients on a journey that starts by clarifying your role and responsibilities; how you will help maximise short, medium, and long-term value, and security for you and your clients. To do this you must establish a shared understanding of the current situation, and the goals of all key stake holders.
The first pass might be relatively quick but gaining clarity and shared understanding is a never-ending iterative improvement process. You will repeatedly explain and clarify to help your client and their management team understand, identify, and take the most appropriate action to achieve their goals
The first analysis, clarify, communicate, agree action phase takes place when you discuss the future and the potential for you and your firm to help the owner achieve their goals for the first time. Every decision is a compromise, with insufficient information or time to prepare, the first key decision is twofold:
Does the Business and the Owner 'fit' your ideal profile and does the chemistry work?
There is no point working with clients you don't like, and/or have no growth aspirations
Does your client understand their 'problem' and believe your 'solution' is their best option?
You must efficiently clarify their problem, explain your solution, and agree terms to get started
You will never get a second chance to make a great first impression
Clients will inevitably be delighted, excited and a little bit apprehensive when they decide to 'engage' you as their virtual FD/CFO, and you enter the Honeymoon Period. Your client's first experiences set the tone for the relationship. You have to ensure they stay delighted and relieved to have you working with them.
You make it or break it during the honeymoon period
You have your plan, your step-by-step process to guide your client to success, but you may have to flex and adapt to ensure you deliver quick-win successes. You must continually reassure them they made the right decision and demonstrate the value far exceeds the investment.
The process starts with a thorough analysis, so everyone fully understands the current culture, values, vision, block, barriers, strengths, threats, resources, gaps and above all, the opportunities for short term wins. Each meeting should conclude by agreeing on the key tasks to be undertaken and why / how they fit into the overall mission of getting from A to B.
The work completed between meetings drives the output and results. Every meeting must start by reviewing tasks completed / progress made, focusing on the progress made toward the agreed goals. Wherever possible use financial models and projections (your superpower) to track and report progress vs plan, including the current and projected monetary value plus other non-financial objectives, e.g., less stress, work life balance…
Avoid 'Analysis Paralysis' at all costs, your background analysis must be 'good enough'. You can then start digging into financial, customer, supplier and supporting information to identify the quick wins to be worked on immediately.
The quick wins provide your client with the confidence and reassurance they need whilst you continue working to find the optimum plan / strategy to achieve the financial and non-financial goals, starting high level to establish an achievable sales forecast, matched to cost of sales and corresponding overhead structure needed to deliver the plan.
Once the base case profit and loss forecast is agreed, you can build the three-way forecast to establish the working capital requirements and evaluate other potential scenarios to identify the optimum plan for the business, e.g., taking on more sales staff, investing in automation, additional product lines, etc, etc.
If the agreed plan calls for external finance, your first task is likely to be to identify the optimum mix of finance options, model these to establish a fully costed cash flow forecast, prepare a funding proposal and assist your client to secure finance on the most advantageous terms and time scale.
In an ideal world you would reach this stage within 90 days, but depending on circumstances this could take much longer. Having an agreed plan and forecast for the future forms the foundations for effective financial management. Unlike most 'Forecasts' that get put in a drawer and never looked at again, your plan is the roadmap for the business.
The next stage is to agree the scope and frequency of management review meetings, these will ideally look something like this:
Management Review meetings, ideally monthly to review performance vs forecast and key performance metrics for the business and to agree the priority tasks to focus on.
Quarterly Planning meetings that review overall performance and agree the big 'Rocks' the company needs to achieve in the next 3 months.
Annual Strategic Review and re-forecasting for the next financial year and beyond.
Other departmental / operational task focussed progress review meetings should be taking place within the business, at least weekly, if not daily to ensure teams remain focussed on completing tasks and adhering to agreed priorities. You and your team are unlikely to be involved in these departmental meetings, but it is imperative that the tasks are aligned to the overall strategic objectives that have been discussed and agreed with senior management at your Review and Planning meetings.
Your participation at the monthly Management Review meetings is key. As the custodian of the financial reports and the score board, your input is essential to making sure all decisions to invest or reduce costs and the potential profit, funding and cash flow impacts are fully understood.
You are also critical to the Quarterly Planning meetings for similar reasons, and it goes without saying the Annual Strategic Review will culminate in an agreed set of plans and actions for every department in the business, all articulated in an updated and agreed Three Way Forecast and Plan for the foreseeable future.
Systems and Procedures:
Most SME's are very poor at documenting their systems and processes, relying instead on people 'knowing what to do and how to do it'.
Without robust, repeatable systems and processes, plus metrics for how long things should take and how much they should cost etc. effective management and control is impossible, other than for a small, simple organisation.
Systems and processes are key to standardising the client experience, they are critical for continual improvement (you cannot manage what you cannot measure), and they are critical for any organisation that wants to scale.
You are also likely to be instrumental in helping ensure all heads of department and managers setup an appropriate cadence of accountability meetings with their teams to ensure activity and focus is always maintained so each person knows what they are supposed to achieve and whether they are on target or not.
You will arrive with your systems and processes in place, part of the 'VFD Way', making it relatively easy for you to systemise 'your' Finance Function.
Working with the owner, you will inevitably be critical to the process of helping the other Heads of Department also setup their own repeatable, scalable, systems and processes and agree the measurement metrics and targets for which they will be held accountable.
This is the plan for what we will cover each month / in each module, but as with every great plan, we will stay flexible and engage fully as we setup robust planning and financial controls for your own business, at the same time as establishing 'Your VFD Way' to flexibly apply in your clients' businesses.
Module 1: The Duties, Role, Mindset and Approach for a Successful Virtual VD / CFO
Module 2: Critical Analysis. Key Objectives, Strengths, Weaknesses, Opportunities and Threats
Module 3: From Value-Add Mindset to Value Adding Activities ~ Getting to How Much and by When?
Module 4: Establishing and Extending the Value You and Your Partners can Deliver
Module 5: The Deep Dive. More Quick Wins and Bringing Structure and Process to the Forecast
Module 6: Clarity and Presentation of Your Offering and How it will be Delivered
Module 7: Prioritisation and Planning for Success Today and Future Success
Module 8: The Advanced Forecasting Masterclass.
Module 9: Background Checks and Preparing to Apply for Funding
Module 10: Re-forecasting, Reporting and Control
Module 11: Structure, Objectives and Content for the Regular Monthly Review Meeting
Module 12: Structure, Objectives and Content for the Quarterly Planning Meetings
Module 13: Risk Management
Module 14: How to Value a Small to Medium Sized Enterprise
Module 14: Exit Planning – Deal Structures and Financing Options
Module 15: Systemising to Avoid Leaving Money on the Table
Module 16: Exit Planning – Preparing the Owner for Exit
Module 17: Exit Planning – The Value Assessment
Module 18: Exit Planning – The Final Chapter
Module 19: Exit Planning – Employee Ownership Trusts
Module 20: Exit Planning – Tax Considerations and Options
Module 21: Continuous Improvement – The Endless Feedback Loop
Module 22: Setting Out Your Stall – Attracting Perfect Clients – Lead Generation
Module 23: From Prospect to Client – Outreach, Nurture, Conversion
Module 24: Change Management – The Perennial Challenge, Overcoming Inertia